12/28/2022 05:00 AM Central
Karolien Simons
Je moet je hierbij afvragen wat voor jou en je hond ontspannend is. Dit is voor elke eigenaar en hond anders.
Als je meerdere honden hebt dan kan het zijn dat je meerdere wandelingen moet doen om het voor elke hond ontspannend te maken.
Probeer de dagelijkse druk op een wandeling los te laten. Het maakt niet uit hoe ver je geraakt of hoe lang de
wandeling precies duurt. Als je een vooraf uitgestippelde route wil volgen, zorg dat er geen tijdsdruk bestaat zodat je deze op jullie tempo kan wandelen.

Heb je maar een half uurtje de tijd, probeer dan geen vaste route in te rekenen maar wandel gewoon op basis van de tijd die je hebt. Zo kan je zorgen voor een kwalitatieve wandeling in plaats van een gepland moetje.
Eenmaal op wandeling is het belangrijk om te beseffen waarom je hond zo graag wandelt. Een van de dingen die het voor hem zo leuk maken is snuffelen. Sterker nog, snuffelen is een MUST. Een hond ontdekt de wereld via de neus. En net zoals wij de krant lezen of door social media scrollen om op de hoogte te blijven van onze omgeving, doet onze hond dit met zijn neus op wandeling. Ze weten op deze manier wie er allemaal gepasseerd is. Dit geeft hen een ontspannen en voldaan gevoel. Het is dus belangrijk dat je hen voldoende laat snuffelen. Trek de hond nooit weg tijdens het snuffelen.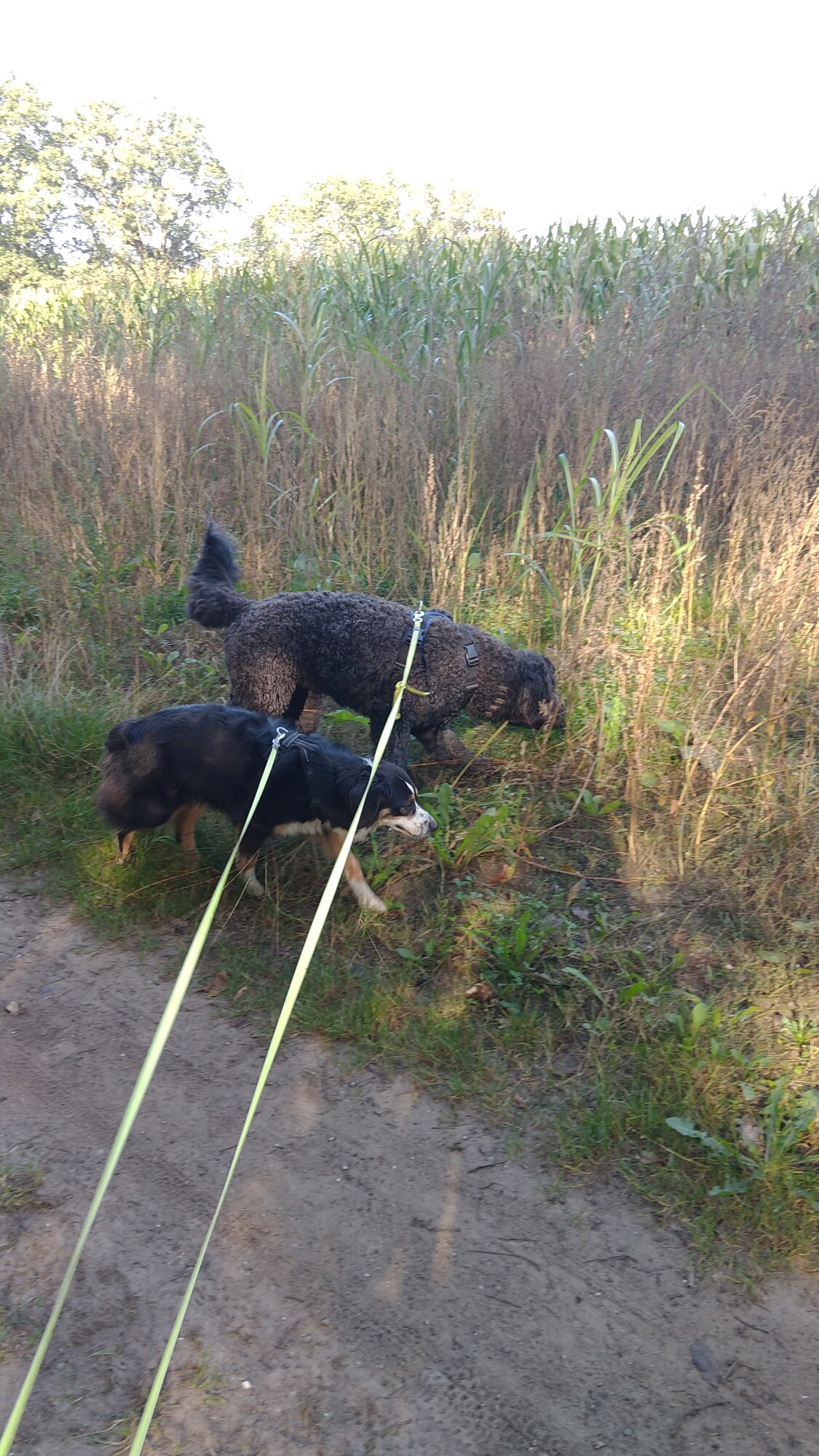 Een trekkende hond is lastig…en dat denkt de hond ook als jij tegentrekt! Als de hond druk voelt op de lijn dan gaat hij nog meer trekken. Je gaat als eigenaar dan nog meer tegentrekken en het "trekspelletje" is begonnen… Allebei proberen jullie uit deze lastige situatie te komen door tegendruk te zetten. Dit hoeft geen gevecht te zijn eenmaal je hond snapt hoe hij deze druk kan
vermijden.
Zit jij in de knoop bij het wandelen met je hond?
Download dan hier de
wandeltoolkit
! Ik leg je daar graag uit wat de oorzaak kan zijn.