Dec 20, 2022 02:48 AM Central
Karolien Simons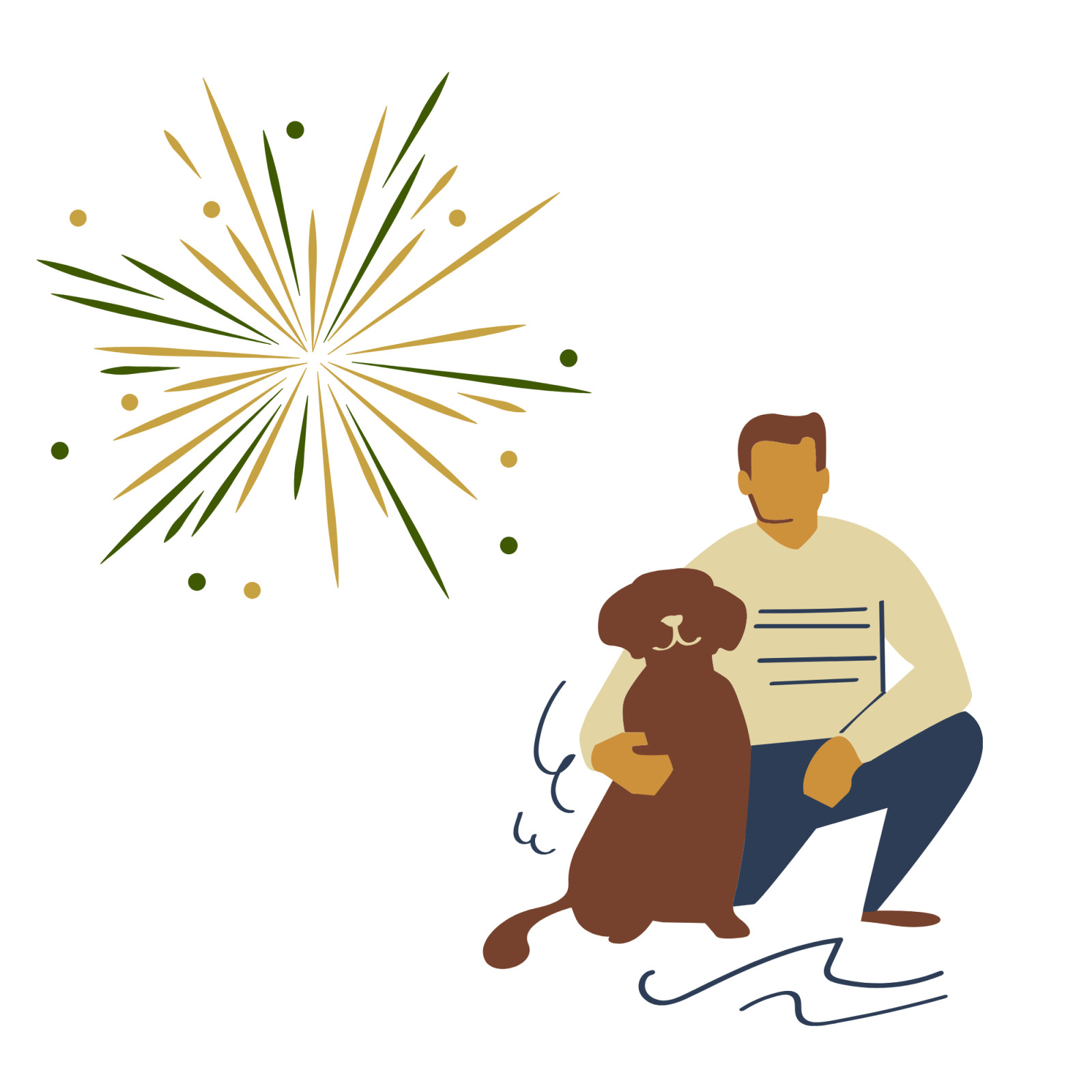 Yes! Jij kijkt waarschijnlijk uit om al feestend het nieuwe jaar in te gaan. Gezellig met het gezin of je hebt afgesproken met vrienden en familie. Echter voor je hond kan dit veel stress zijn en wil hij liefst dat dit moment zo snel mogelijk voorbij is…
Een bijkomend probleem is dat het vuurwerk niet meer 5 a 10 minuten duurt maar vaak al dagen vooraf en zelfs erna. Je kan dus slecht voorspellen wanneer er knallen gaan zijn. Voor vele honden is deze periode een grote hel!
Echter het goede nieuws is dat we hen hierin wel kunnen ondersteunen. Ik geef je tips wat je best wel en niet doet.
Wat kan je doen om je hond te ondersteunen?
Blijf zelf kalm. Honden kunnen jouw emoties spiegelen. Als je zelf kalm blijft is er een grotere kans dat jouw huisdier dat ook is.
Sluit gordijnen en rolluiken. Zo zijn lichtflitsen al minder zichtbaar.
Zet de radio of tv aan om de geluiden te camoufleren
Probeer je hond af te leiden gedurende het vuurwerk met denkspelletjes of kauwspeeltjes
Creëer een veilige schuilplaats voor je hond. Dit kan je al 2 weken op voorhand installeren zodat je hond aan de schuilplaats went en er zich thuis voelt. Dit kan zijn mand/kussen/bench zijn of je maakt een nieuwe plaats.
Gebruik natuurlijke supplementen om je hond te kalmeren. Dit kunnen etherische oliën of rescue Bach druppels zijn. (OPGELET! hier moet je op voorhand al mee starten!). Stuur me een bericht als je hiermee wil starten. Dan bekijken we samen welke producten voor jou kunnen helpen.
Wat doe je NIET?
• Straf je hond niet. Een hond die angstig is, zal op dat moment niets bijleren.
• Negeer je hond niet. Je hond moet weten dat je er voor hem/haar bent. Dit door in dezelfde ruimte te zitten, of de hond naast je te laten liggen.
• Ga niet met je hond wandelen tijdens het vuurwerk. Hierbij dompel je jouw dier onder in zijn angst (ook wel flooding genoemd). Je hond leert hier niets bij en vaak wordt het probleem alleen maar erger.
• Heb je een schuilplaats gemaakt voor je hond, sluit hem er dan niet in op gedurende het vuurwerk. Je hond is niet verplicht om tijdens het vuurwerk hierin te zitten, laat hem/haar zelf kiezen.
• Gebruik geen verdovende/verlammende medicatie! Je hond beseft nog wel wat er gaande is maar kan zijn lichaam niet meer bewegen. Dit zal de hond nog angstiger maken en het vertrouwen met jou schaden. (vb: Calmivet)
Nu weet je wat je wel en niet moet doen tijdens het vuurwerk. Echter vertrouw ook op je gevoel. Als een situatie niet oké aanvoelt, verander de situatie dan. Elke hond is anders. Jij kent je hond het beste. Zie er ook op toe dan omstaanders goed met je hond omgaan!